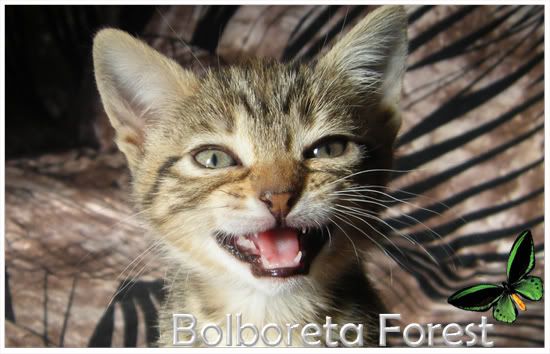 Hobbes (Hobbita)
Common European female black blotched taby.
Born in April 2009, died in January 2010.
You were the cat who adopted a couple full of hope. We thought you were a boy, but turned out to be a girl, yes, a little devil girl. So you had the name of the male tiger toy of a comic. Never forget when you finally picked you, so tiny and shrill, but like when you get home you got a sees space on my legs and slept deserved nap after your first trip into the carrier, by car.

When you were very tiny, you slept on my pillow close to my ear, I got used to hearing your sweet little motor to sleep. When you got a little bigger, you was in bed as a person, between the two. I did suffer every time you stood on the grapevine of the yard and you would not go down, I looked funny from the top and you climb even higher, "little bug". Every time we opened the fridge, you would come to ask for your favorite delicacy, cockles!, And always get, we could not say no.

The last time I saw you, you were in the rear carrier. The couple full of dreams that have adopted you, has broken and I would like to keep you with me, one of things I wanted most in the world, but was not able, and I had to move out of town, far away. I looked at you once time more and something told me we would not see us again ... Months later I learned that one night, with your first heat, they let you out and a car shut off your light forever.

Sometimes we called you Bolboreta (Butterfly) because you would not stop, seemed to fly from one place to another. Our name is a tribute to your affectionate nickname. It is the most beautiful word of Galician and is you.

Even today, my eyes fill with tears when I think of you. I keep your necklace is all that's left of you, and many memories of all your craziness. I know that every night you shine from a star, where you get on the grapevine to hunt birds and there nobody scolds you.
Flies Bolboreta!.

Until forever little.
© Beatriz Alonso. Bolboreta Forest.